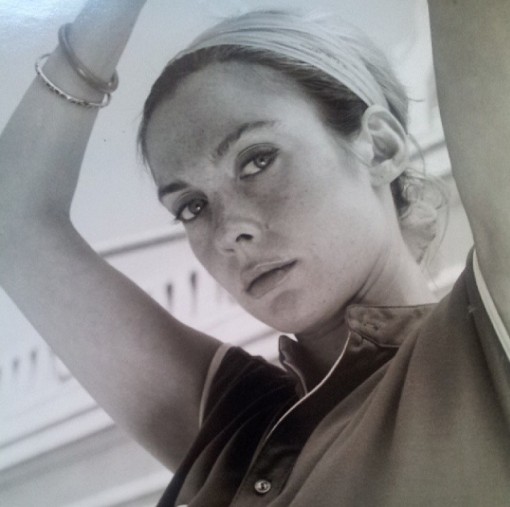 As a woman and an actor, how do you feel about aging,getting older? I am terrified of aging. I have aging strategies. I'm always picking someone, Connie Britton, Kathryn Keener, Julianne Moore..and saying ok, she looks normal and beautiful, great hair, no face surgery that's my forty-seven strategy, or that's my fifty-three strategy. I guess though, in a way, you could say, in all seriousness, that those women I mentioned really are icons I look up to. All three I mentioned are strong, unique, intelligent and natural beauties. So, but yes, I am terrified that I will be rolling my boobs up on curlers one day and my face will be so full of wrinkles that I will become invisible to men and then be alone somewhere in a house full of raccoons, cats and well I guess now I'm just describing Grey Gardens. Isn't this every woman's fear? Your husband will leave you, discard you, trade you in for a younger model and then you wither somewhere in isolation while he makes up a narrative to your former friends that you were bitchy, frigid, never cleaned the house or gave him blow jobs anymore?
-What was your childhood/youth like? My childhood was wildly unstable. My Father was an alcoholic, violent and self pitying, he was also much older than my Mother, she was his discarded child-bride that he had "saved."  As a very young child I would sometimes catch my mother softly crying to herself in the kitchen, under her breath saying "One day they'll wake up and I won't be here anymore, one day."
I had my brother and sister to shield me from a portion of the chaos but they were as lost and frightened as everyone else in our home.  We were members of the Jehovah's Witness religion which further isolated me and our family. We lived in a stifling bubble, in constant anticipation of this Armageddon event that would wipe the earth clean and then our "real" and "everlasting" lives would begin. For some reason, even as a child I thought that was bullshit, I just was very skeptical and questioning of it all, which didn't go over well. I escaped through my imagination and a fascination with emotion, dreams, fantasy and a lot of TV shows where I studied what I thought might be depictions of "normal" families. I was not allowed to play with children that didn't share our family's beliefs and Jehovah Witness kids didn't like coming over to our house either, my Father might randomly force them to eat from our outside trash or spend two hours cleaning their feet before being allowed in the house.
-How did that play into your life's journey as an artist? I learned to play alone for the most part, I would write stories and create alternate worlds. I also loved to experiment with empathy and study actors performing. Often the focus in my home was not on empathy and curiosity, instead of replicating that behavior I seemed to go out of my way to develop the ability to view things from another's perspective. Perhaps, in some way I was unconsciously attempting to make up for that lacking.
I've also read that this can be a typical reaction to abuse and gas lighting. I tested myself to see how deeply I could relate to a characters dilemma, to see if I could go completely into this other reality and feel what they were experiencing. I honed my ability to connect with others. I knew on some level I would need these skills, and they did serve me, not only as an artist but as a human being with the desire to have a loving family and community somewhere in my future.  I dreamt of traveling far away from my family, my town, my church and being free and building something of my own.
-You decided to become an actor? Yes, by twenty-three I was living in Los Angeles and working professionally as an actor. I ran away from home at fourteen. Over the following two years, I spent a time on the road as a personal assistant to a verbally and physically abusive stage magician, was taken in by various families for brief periods and generally floundered to find stability. At sixteen I found some solid ground for a moment, living on a commune of sorts with a motley crew of other young aspiring artists and musicians. I survived by working in fast food restaurants and explored career interests interning as a booker and lighting designer at live music venues and squeezing in writing classes and general education at city college for a year. In my late teens I decided to become an actor. I was lucky to find a scene study class and theatre group that was organized and very actively involved in developing the students careers. By the time I was twenty I had a manager, agent and a blossoming career in independent film and Television.
My acting career flourished over the next decade and I was one of the lucky ones able to make my living from it. I experienced huge career highs in my twenties, spent two years living in New York filming a TV series for NBC and several films. I sometimes handled the pressures with great maturity and responsibility and other times I found myself haunted and troubled by my childhood experiences, which had stuck with me no matter how I succeeded both creatively and financially.
-How did you deal with occasionally being haunted by your childhood? 
In my late twenties I found myself a bit exhausted and feeling lost. The constant travel and long periods away from my friends had made it difficult for me to cultivate the one thing I most desperately wanted, family and community. Then the emotional roller coaster of pilot season, network tests and the almost non stop pressure to have a massive break through before thirty started to take a toll on my emotional well-being. I began to notice that pressure was affecting my ability to dream, play and have fun with acting which had always come so easily in the early days. I decided to take my foot off the gas with my career for a moment and switch focus to my relationships, which at that time was my soon to be husband,  our friends and community. I really did take great joy in caring for our home and cultivating relationships, it brought me enormous peace and real joy like I'd never experienced. I still pursued acting and had career goals but focused on sustainability and balance between personal life and professional life. However, this is not an easy thing for an actor to do and I've seen many of my friends struggle with this over the years.  I think in a lot of cases if you're not a really big name that's brought down some heavy rain of cash flow and developed a brand, if you turn your back for one second, to have a baby, go back to school, whatever, you have to know, especially as a woman, because you have the aging thing working against you as well, you should be prepared to climb Mt. Everest to get a sustainable career back up and running when you're ready to place all of your energy back into it. I'm not saying it's impossible to come back or even complaining, it just is what it is. It's very competitive! Regardless of the difficulty and obstacles, I love the 

roller coaster of it all.

 I 'm grateful I have continued to get work and am given opportunities to contribute my skills and my passion as an actor.  
-You decided to embark on writing and directing in 2010 Yes, I wrote, produced and directed  a short called SISSY, a twenty minute short film based on my travels with the magician I mentioned earlier. It was accepted to over thirty-five film festivals and won dozens of awards including Best Film at DTLFF and Best Acting to entire cast at Amsterdam International. I also received a distribution deal for the film on the cable channel ShortsHD and internationally on iTunes. The short film is currently being developed/pitched as a cable TV series called CHARLIE AND THE DOVE which I created with my writing partner Kerri Randles.

 The show centers on the ultimate dysfunctional father daughter relationship, a has-been magician and a discarded young girl are thrown together, hustling for their day-to-day survival in a world of con artists, casinos and night clubs in late 80s Reno, Nevada.  Charlie, a once successful performer and play boy who's good-looks are beginning to fade is struggling with addictions and barely keeping afloat. He dreams of reclaiming his career and making it big in Vegas. Dove, his young companion, hopes to be reunited with her Mother, who seems to have gone missing after throwing her into Charlie's care.  At it's core, it's really a story about family, healing wounds and the fight to change the hand you were dealt. 
-What are you working on right now? My other current project is a short called THE DIARY OF HEATHER KEATING, which I wrote with my partner Kerri, she is also producing and I will be directing. It's an exploration into a patriarchal religious community. A father confiscates his young daughters diary and finds she has described a sex act in it. As a result, Heather, her mother and all the other women and girls are put on trial by the church's elders. 
Diary is still all about raw emotion and human struggle at its core but I wanted to branch out beyond the intimate singular point of view storytelling into more universal themes. I see a color palette that's warm and inviting and blocking that is almost beautifully ritualistic juxtaposed with the underlying ugly truth which is that Heather and the women of the church are stifled, abused and almost constantly, daily being humiliated, shamed and undergoing some form of gas lighting.

I am not a big fan of happy endings for my stories. I don't want to tell them to be didactic or aspirational or to wrap them up in a bow or impress you with my story structure skills. I only hope it is successful in being authentic, opening up a dialogue or connecting with someone still struggling, still looking to connect and know their not alone. 
Not everyone finds their combat boots or their super power after an entire childhood or lifetime of systematic abuse and gas lighting. Some people go through these things and find their spirit is destroyed and they are not lucky enough or privileged enough to have opportunities to discover their voice. Sometimes I have found it can be more empowering to simply first discover that their are others out there who have felt crushed by their experiences and you can give each other this great gift of empathy and understanding that you are doing the best that you can and little by little every day you can get stronger. But first I think you must realize you are not alone and that a place exists where you can speak about such horrific things without people cringing and withdrawing from you. 
This is why I sometimes think that the stories that start with an abused woman and end with this inspirational, aspirational moment of putting on the combat boots, the war paint etc can border on being dangerous and have like an opposite effect, leave an abuse survivor feeling even worse about themselves. I have to admit I find those kind of stories empowering in moments, I get that urge to stand, cheer and shout and start a punk band but then it's like this temporary rush, this fleeting high that leaves me empty because it is not like this in real life, it's actually quite rare and would take an enormous amount of a perfect storm of circumstances, the right mentors showing up, a certain strength of constitution.  for an abused person to suddenly and in a healthy way find this super human strength to sustainably overcome their past abuses.In reality it takes years of therapy and constant, conscious, almost hyper-vigilant observation of one's behavior to undo these abuses and that is not even going into the larger issues of dismantling patriarchal oppressive communities, religions, societies that are still committing these crimes now, today and on and on. Maybe a sad or an open ending to a story doesn't uplift you but maybe that's the difference between being entertained and experiencing art. I like to be entertained just as much as the next person but I think art that challenges you and makes you uncomfortable has a lot of value as well and I hope we don't lose that in our culture where a lot of films get over focus grouped, social media friendly tested to death.-When do you feel most alone and when do you feel happiest? I feel alone much of the time and have had to learn to live with it. I don't think the feeling is going away. I had hoped to have children and a family and I kinda got screwed over on that front. I think perhaps having children could have cured this but I have also had my friends who are mothers tell me they never felt so profoundly alone until they became a mother… So who knows.
 I feel happiest when I have just booked work or am in deep and intense creative collaboration or being of service.

Interview by Tonje Kristiansen
Photos of Bonnie Root by Orly Olivier and from her short film SISSY by Jason Oldak